Dear friends, May is here and with it everything around us wakes up to life, everything blooms and resonates. We have prepared a new special for you, which is a combination of colorful colors, spring flavors, but especially the highest quality ingredients. You will find green or white asparagus in combination with honest bryndza in our special menu.
Asparagus cream with marinated salmon
White asparagus cream with marinated salmon prepared in the Gravlax method served with basil oil and black sesame.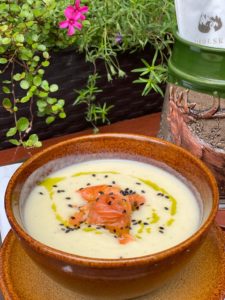 0,3l (4,7,11) 4,90€
Bryndza pierogies on asparagus puree
Homemade pierogies with May bryndza on green asparagus puree served with smoked bacon, sour cream and spring onion.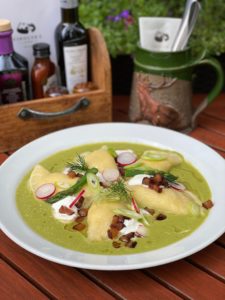 300g (1,3,7) 11,90€
Bon appetit ♥