Dear friends, we present you our spring special offer, which represents a benefit not only for your health or your taste buds.
Our new specialty not only looks beautiful but tastes and smells even better, as the main ingredient is broad-leaved garlic.
Do not hesitate and taste our tasty menu, which we have carefully prepared for you.
Tyrolean spaetzle with broad-leaved garlic
Spaetzle with creamy gorgonzola sauce, bacon, broad-leaved garlic and pesto
300g 11,90€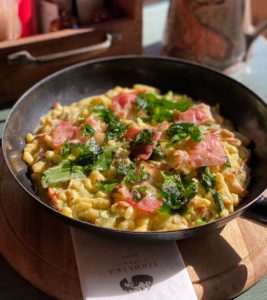 We wish you bon appetit ♥