Dear friends, do you still not want to cook or did you just not have a time? Prepare lunch, dinner or a treat for your family with a combo of great food right up to your feet.
We present to you a Family Box consisting of several dishes of our menu at a discounted price. Pork mini schnitzles or chicken wings for your children, veal ribs for your partner or Bacon burger for you is a great combination that will guarantee that no one in your home will stay hungry. Of course, there are also roasted potatoes, french fries, grilled corn, onion rings, pickled vegetables or homemade tartar sauce, BBQ and sweet-and-sour sauce. And all of that for only a unique €40.
Plus, if you order this great combo, we'll pack 4 x 0.25 Coca Cola for free… So what do you think?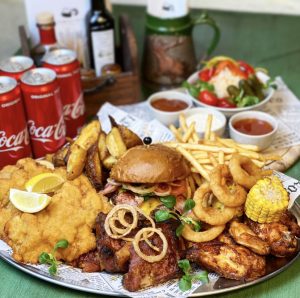 Pork mini schnitzel 180g/150g
Chicken wings 300g/150g
Veal ribs 300g/150g
Bacon burger 150g/200g
Bon appettit ♥