We chased him in the field to prepare this incredibly delicious homemade paté made from the highest quality ingredients.
It was successful, so you can enjoy it here in a non-traditional combination with homemade mildly spicy ajvar and pickled onions, also homemade.
We believe that this interesting combination will pleasantly surprise you with its perfect interplay of flavors.
Rabbit pate with homemade ajvar
Homemade rabbit paté served with homemade spicy ajvar, pickled onion and toasted baguette.
60g/100g 6,90€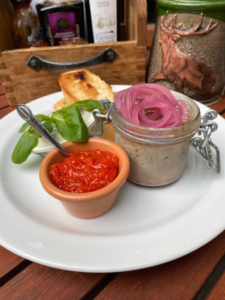 We wish you bon appetit ♥