We all know that good food has a fundamental effect on our good mood. And we definitely agree! That's why we in Tirolská izba bring you a combination of honest and high-quality tastes, with which we have supplemented and transformed our menu.
Our new dishes are a combination of bright colors and your favorite interesting flavors, and therefore we cordially invite you to taste these great specialties.
Tyrolean salad
Salad with snails in an herb crust, with grilled halloumi cheese, fried bacon, egg, pickled red onion and anchovy dressing.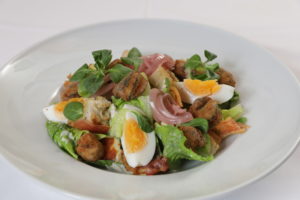 Caesar salad with shrimps
Grilled shrimps, romaine lettuce, bacon, anchovy dressing with croutons and parmesan shavings, herb baguette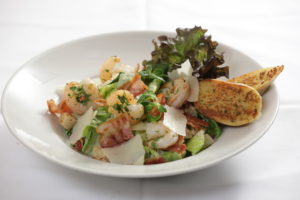 Risotto Carbonara
Creamy risotto with fried bacon, yolk, black pepper and parmesan cheese
* with chicken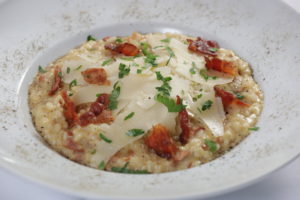 Risotto Limone with chicken in herb crust
Risotto with grilled chicken breast, sun-dried tomatoes in white wine with lemon zest and parmesan shavings
* with grilled shrimps
* with baked salmon
Spaghetti di Parma
Spaghetti with prosciutto, dried tomatoes, capers, basil cottage cheese, chilli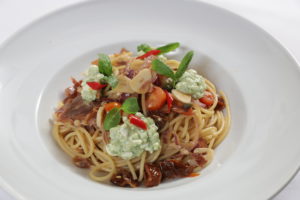 Duck combo
Slow-roasted duck leg with neck, red cabbage in wine, white steamed cabbage, homemade lox, bun and spinach dumplings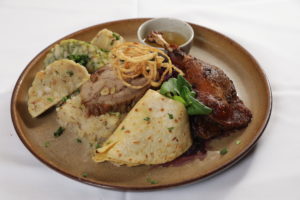 Pork "Nackenfleischnitzel"
Marinated pork neck steak with potato salad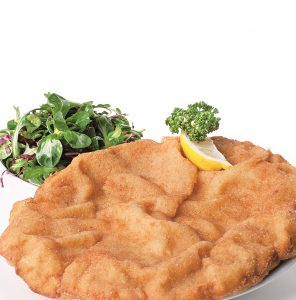 Homemade Szegedin
Honest home-made Szegedin with confit pork belly, served with buttered speatzle seasoned with fried bacon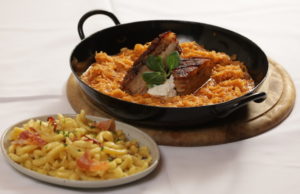 Sea buckthorn raspberry tiramisu
Homemade sea buckthorn raspberry tiramisu with lyophilized raspberries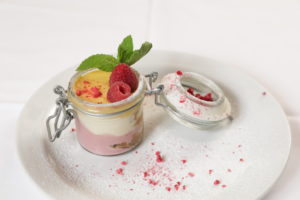 Dear friends, we look forward to seeing you and wish you a bon appetite ♥